Services :





The department of Medical Oncology was established in 1972 and nurtured by stalwarts like Dr. Pankaj M. Shah, Dr. Kirti M. Patel and Dr. Shilinbhai N. Shukla. The goal of the department is to provide best possible comprehensive medical treatment even to patients with low socio-economical background maintaining scientific attitude and humane approach. It has dedicated medical and pediatric oncology wings, BMT services and clinical trial services.

The department of Medical and Paediatric Oncology provides comprehensive care for adult and paediatric patients with solid tumours and haematological malignancies. Every year approx. 6000 new adult patients are registered under medical department and more than 40,000 patients receive curative or palliative chemotherapy either indoor (127 beds) or in day care center (46 beds). About 8600 minor procedures are performed annually.

The Indumati Kinariwala Paediatric Oncology center was established in 1992 and it is one of it's kind in India. Number of cancer patients registering in Paediatric center per year are approx. 1179. The center also has special OPD for care of central lines (PICC and Hickman catheter).

The department of medical oncology also participates in clinical trials. The clinical research wing was established in 1995 and since then more than 60 International and 25 National/GCS trails have been conducted. All the faculty is GCP trained.
The department runs DM Medical Oncology course attached to BJMC and Gujarat University which was initiated in 1991 with intake of 4 students per year which has increased to 10 students per year since 2010. About 96 DM students have successfully completed the course and are now valuable asset to the Society both in India and abroad.

Bone Marrow Transplant Services :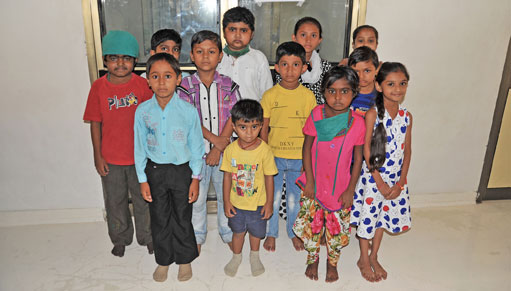 Bone Marrow Transplant Unit was established in August 1999 under the guidance of Dr. Sandip Shah and since then 232 transplants have been performed (Allogeneic and Autologous). The centre gets patients from states of Gujarat , Rajasthan, and Madhyapradesh.

The bone marrow transplant centre at GCRI is a 4 Bedded Transplant Centre. Total 232 Hematopoietic stem cell transplants have been performed including 139 autologous, 93 allogenic of which 11 were matched unrelated umbilical cord and 3 MUD.
The centre mainly focuses on conventional fully (6/6) HLA matched sibling allogenic for Thalassemia Major, Acute leukemia and Aplastic Anemia. Autologous Bone marrow transplantation performed mainly for Lymphomas(Hodgkin's and Non Hodgkin's) and Multiple Myeloma. It has a very high success rate &Transplant Related Mortality (TRM) is comparable to any other institute in world.

Average cost of Allogenic Transplant is 10 lakh( appx.) and 3-4 lakhs for Autologous transplant.