Services :





Facilities Available: Palliative Medicine department has facility for In-patient service, out-patient Service, home care service and hospice care service.

Clinical Activities: Department of Palliative Medicine is established in October 2010. Pain management and Palliative care are essential components of comprehensive cancer care. Department of palliative Medicine, GCRI is highly structured department for delivery of care to patient with cancer from diagnosis to death and then into bereavement care for the family. It is an interdisciplinary, multi-dimensional team, comprising doctors, nurses, counsellor, physiotherapist, nutritionist, social workers, and volunteers.
Outpatient Services: The department provides pain & symptom management. Counseling of all patients is done for psychosocial and spiritual issues. Counseling with patients and family is done for breaking bad news, collusion, disease status, prognosis, nursing care, dietary advice and for oral hygiene etc.
In-Patient Services: Patients with severe pain and uncontrolled symptoms are admitted for better symptom management.
Homecare service: The services are provided to patients suffering from cancer those who are home bound, to provide holistic care and improve the quality of patient's life.
The criteria for selection of patients for home care service are:
Hospice service: We also have facility to admit terminally ill patient to hospice centre to give supportive care to patients and to be comfortable and free of pain, so that they live each day as fully as possible.
Academic activities: The following Training Courses in Pain and Palliative Care are conducted by the department.
Specialization degree course - MD  Palliative Medicine
One year fellowship in Palliative Medicine
Courses run by Indian Association of Palliative Care
(A) Essentials of Palliative Care "Part A"– A basic course for doctors & Nurses
(B) Essentials of Palliative Care "Part B" – A Hands on training in palliative care for doctors and nurses. This can be done only on completion of Essentials of Palliative Care "Part A". One can become Registered Medical Practitioner (RMP), and can prescribe, procure, store & dispense morphine officially after this course.

One has to attend 10 full days in The department of Palliative Medicine, Gujarat Cancer & Research Institute, Ahmedabad. He/She has to maintain a log book, which will be submitted to IAPC Academic cell and will be issues certificate of attendance.
4. Course supported by Indo-American Cancer association & Pallium India, Trivendrum
Certificate Course in Pain & Palliative Medicine (CCPPM) for doctors
Certificate Course in Pain & Palliative Nursing (CCPPN) for Nurses
These are six weeks "Hands On" – Full Time courses for doctors and nurses, conducted by The Department of Palliative Medicine, Gujarat Cancer & Research Institute, Ahmedabad. Tentative months of these courses are as follows.
Mar- Apr (Every Year)
Sept- Oct (Every Year)
Registration for this course opens almost two months before the course date. One can register as potential candidate for the course, whenever he/she decides to join the course.
5. Training on Medical use of Essential Narcotic Drugs
A 3-days basic course in pain relief and palliative care, consisting of 20-hour sessions, developed by the Ministry of Health and Family Welfare, Government of India is conducted in the department of Palliative Medicine, Gujarat Cancer & Research Institute, Ahmedabad. This is mandatory training for a doctor who wishes to prescribe Morphine or any other Essential Narcotic Drugs in his/her practice. One can join this training anytime, with prior communication with department head.

6. Training on Basic palliative care to Medical officer and Nursing staff as a part of National Program for Palliative Care. A three days training workshop on Palliative Care have been organized every year by the State Palliative Care Cell, Gujarat at Gujarat Cancer Research Institute, Ahmedabad and Community Oncology Centre, Ahmedabad.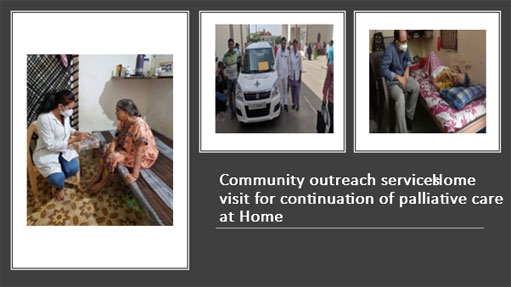 Research Activities :
Observational studies and project findings are published in National / International Journals.