Services :





The Onco Pathology department is the heart of our Hospital; central to any cancer management is tissue diagnosis. It includes various services like Histopathology, Cytology, Haematology, Biochemistry, Hematology, Immunohistochemistry, Flow Cytometry and diagnostic molecular pathology.
The Department of Clinical Haematology and Biochemistry has been upgraded with various equipments like Mindrey BC 6800 plus with auto slide stainer for Hematology, ACL TOP 300 for Hemostasis test, Sysmax UC 3500 and UF 5000 for Urine Analysis and Roche 6000 and Sebia Minicap for Biochemistry and Immuno assay tests.
The histology section is well-equipped with wax dispensers, automated tissue processers, automated stainers and automated cover slipping machine, cryocut machine, three grossing stations with attached cameras and computers etc. It provides services of Histopathological diagnosis with Immunohistochemistry and Frozen section.
The cytology section is well-equipped with fully automated machine for Liquid Based Cytology, Cytospin and automatic stainer machine. The department is well equipped with highly sophisticated microscopes attached with camera and computer for teaching and record purposes. The department provides referral services for histopathology opinions.
The department has an internet facility for tele-pathology.

Clinical Services :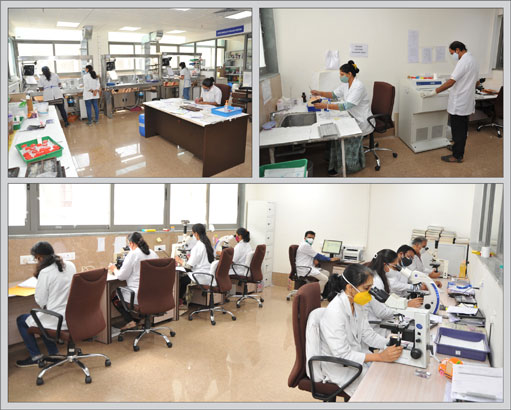 The department conducts blood collections for special investigations at Out-door Patients' Department (OPD) at the Hospital especially for early detection of pre-invasive and invasive malignancy. Pap's Smears Tests and Serological Tests are performed free of charge and biopsies are taken at nominal charge. The Department of Pathology also examines and gives expert opinion of the outside Biopsies and Specimens and also performs Immunohistochemistry tests thereon. The outdoor Blood Donation Camps are conducted at various places in Gujarat. The department also actively participates in GCRI Academic Meetings.

Academic Services :
The department is super specialized with 8 DM oncopathology seats every year. The department is also offers a two year fellowship program after completing post graduation.
The department also offers the Gujarat University recognized medical laboratory technician course. The team comprises of 14 Pathologists including one Professor, three Associate Professors, and ten Assistant Professors.
The pathologists are responsible for sign outs pertaining to surgical pathology including immunohistochemistry, Fine Needle aspiration cytology; all positive and negative exfoliative cytology reports.
They also undertake teaching and research activities. The consultant staff participates in clinico-pathologic tumor meetings with specialty working groups (Disease management group) on a regular basis. Each Disease management group has representatives from pathology department and each consultant has been assigned two anatomic sites and every anatomic site has three designated pathology consultants. This has ensured that the designated specialist pathologist is part of the decision making team. The consultant pathologists are encouraged to pursue their academic and research activities within their designated specialties.