Services :





Blood Bank is well equipped with all the modern equipments like Fully automated blood grouping and antibody screening machine, Column Agglutination [Gel-technology], Fully Automatic ELISA Machine, Apheresis machines, Blood Irradiator, Fully Automatic Component Separation Machine like: Optipress and TACE-II for leukoreduction of components which prevents the blood transfusion reactions. Apheresis procedures include plateletpheresis and therapeutic Apheresis and peripheral blood Stem Cell collection.
Clinical Services :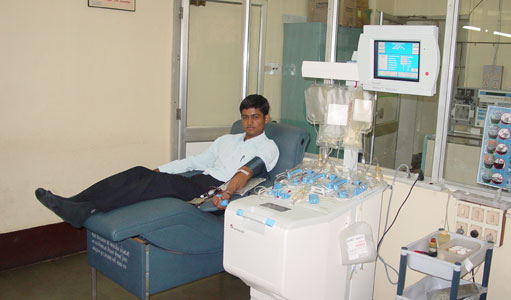 Blood Bank collects blood from voluntary and replacement donors in the hospital and outside hospital by arranging the outdoor blood donation camps, collecting 15,000 blood bags per year. Blood grouping of the donors and patients is done and blood is supplied to the patients after crossmatching with latest technology.
Academic Services :
The department is involved in training programme for Resident Doctors and Lab Technicians. It is also involved in teaching programme of M.L.T. Students. M.D. (Transfusion Medicine) students from the B.J. Medical College as well as doctors and technicians from all over Gujarat come for training of Component Separation and Apheresis procedures.