Details of Department :

This is a NABL Accreditated Laboratory. Microbiology Department caters diagnostic facilities for infections occurring in cancer patients and also Infection Control Activities including CSSD., FICTC (Facility Integrated Counseling & Testing Center) and Biomedical Waste Management (BMW) Activities .
Facilities in Laboratory: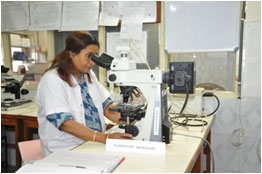 1. Fluorescent Microscope: Fluorescence microscopy is useful in a   rapid evolution, with new techniques, probes to detect pathogens in patients suffering with infections. Used in Laboratory to detect respiratory pathogens, Fungi, auto-immune diseases, Tuberculosis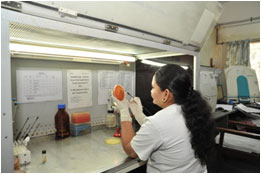 2. Laminar Air Flow to prevent Contamination During Procedure: Used to work in sterile conditions to avoid air contamination in procedure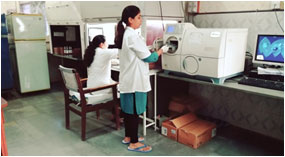 3.  Vitek 2 Compact is from BIOMERIEUX India Pvt Ltd,  is a fully automated continuous monitoring Bacterial and Fungi Identification and Susceptibility (MIC) Testing System which provides  information rapidly and accurately about rare and common Bacteria and Fungi for targeted antibiotic therapy resulting in better patient management.
Reporting is by using CLSI guidelines.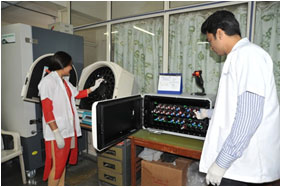 4.Automated Blood culture systems (BACTEC 9050 and BACTEC FX 40) helps  to diagnose of Bacteremias and septicemias. Laboratory has two systems from Becton Dickinson India pvt ltd; called. This  instruments help in the  rapid detection of bacteria and fungi in clinical cultures of blood.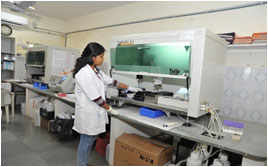 5. EUPHORIA 4.1 from Tulip Group of Companies: The automated ELISA system with good throughput analyzer for processing Micro Elisa assays in Micro titre  plate format. Serological diagnosis by ELISA is done for  viral infections.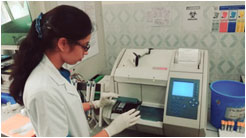 6. mini VIDAS is from Biomerieux India pvt limited is a compact automated immunoassay system based on the Enzyme Linked Immuno Assay (ELFA) principle. Patients septicaemic infections  and other viral infections can be diagnosed.