Molecular Oncology Lab


Cytogenetics Lab


Immuno- Haematology Lab


Stem Cell Biology Lab


Tumor Biology Lab


Clinical Carcinogenesis Lab
Molecular Oncology Lab
Services :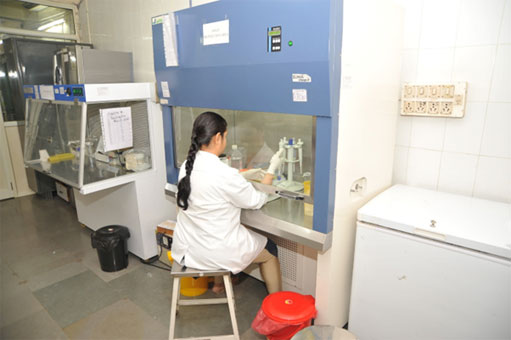 The department is equipped with Spectrophotometer, Centrifuges, Electrophoresis Unit, Gel documentation System, High Performance Liquid Chromatography, Thermal Cycler and Proteomic work station.

Clinical Activities :
Serum protein electrophoresis (SPE) is a test that examines specific proteins, globulins. In this technique serum is placed into agarose gel and exposed to an electric current to separate the serum protein components into five major fractions by size and electrical charge: serum albumin, alpha-1 globulins, alpha-2 globulins, beta globulins, and gamma globulins. SPE is very important in differential diagnosis of multiple myeloma.
Academic Activities :
Theoretical and practical demonstration of various molecular biology and biomedical techniques were carried out for the students who came as observers from various universities. Weekly seminars are also conducted in the division by staff members to discuss recent trends in cancer research.
Research Activities :
The research activities of the division are revolving around the following aspects. Assessment of the role of tobacco habits, various other lifestyle and sociodemographic factors, dietary patterns and interplay of enzymatic and non enzymatic antioxidants in an etiology of tobacco related cancers. Applications of proteomics in cancer research by analysis of 2 dimension maps from serum and cytosolic proteins of patients with various malignancies. The alterations in glycoproteins membrane glycolipids, glycoprotein me tabo lic enzymes and glycoprotein electrophoretic changes are evaluated to assess their role in diagnosis, prognostication and management of cancer patients. In addition NF-kB pathway, role of telomeres-telomerase and its components, matrix metalloproteinases and tissue inhibitor of metalloproteinases are studied. Salivary biomarkers in oral cancer, assessment of p53 mutations and its polymorphisms in oral and breast cancers, vitamin D signaling pathway and DNA repair pathway in breast cancer, HPV and angiogenesis in oral and cervical cancer are also studied. A multinational project on 'Immunoscore' a new approach for colon cancer classification is on-going.