Academic Staff

Department of Cancer Biology (Research)-Molecular Diagnostics and Research Lab III



Direct :


079-22688000 ; 079-22690000


Immunohematology Lab
Molecular Diagnostics & Research


Lab - I


Lab - II


Cytogenetics Lab
Lab - III
Facility Available: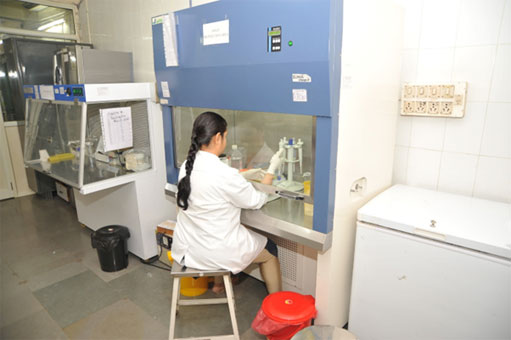 Laminar Air Flow, Refrigerated Centrifuges, Electrophoresis Unit, Qubit Fluorometer, Gel documentation System, Thermal Cycler, Real Time PCR, Spectrophotometer, High Performance Liquid Chromatography, Proteomic Work Station

Clinical Activities :
Quantitative/Qualitative analysis of BCR-ABL fusion gene, PML-RAR fusion gene, JAK-2 V617F mutations and C-Kit mutation are performed by Real-Time Polymerase Chain Reaction. FLT-3 ITD and D835 mutation are carried out by Polymerase Chain Reaction and restriction fragment length polymorphism method.

Academic Activities :
The lab staff members are involved in teaching of MSc Cancer Biology students. Theoretical and practical demonstration of various molecular biology and biomedical techniques were carried out for the students who came as observers.
Research Activities :
Tobacco exposure and molecular pathogenesis of oral cancer

Study of glycosylation changes and associated molecular markers in oral cancer

Study of genomics and proteomics signatures in oral cancer

Clinical signature of interaction between vitamin D and related molecular pathway in breast cancer

Prevalence of high risk human papilloma virus type 16 and 18 in cervical cancers in population from Gujarat West India