Academic Staff

Department of Cancer Biology (Research)-Molecular Diagnostics and Research Lab I





Direct :

079-22688000 ; 079-22690000


Immunohematology Lab
Molecular Diagnostics & Research

Lab - II


Lab - III


Cytogenetics Lab
Lab - I
Facility Available : PCR, spectrophotometer, electrophoresis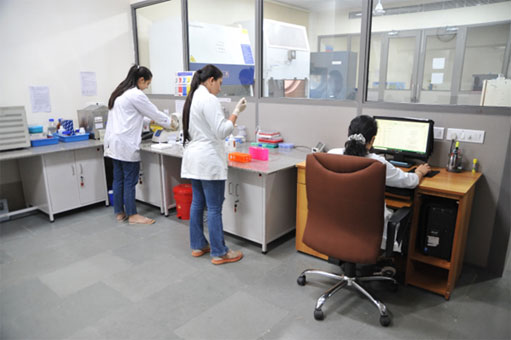 Clinical Services Offered :
HLA Typing Tests for determination of Class I and II HLA typing antigen A-B-DR in patients who are recommended for bone marrow transplantation such as thalassemia and blood cancer. It is being performed by PCR SSP technique. The Lab is NABL Accredited for HLA typing Investigations.
Academic Activities :
The Lab participates in various academic activities of the institute. These comprises of seminars of the department, imparting practical and theoretical knowledge to M Sc Dissertation students and other postgraduate students. Moreover, the Lab is actively involved in Lectures and practical's for students of M.Sc. Cancer Biology course and Cancer Biology Finishing School. Also the examinations papers are set, practical exams are being conducted followed by assessment of the answer sheets by the staff members of the division.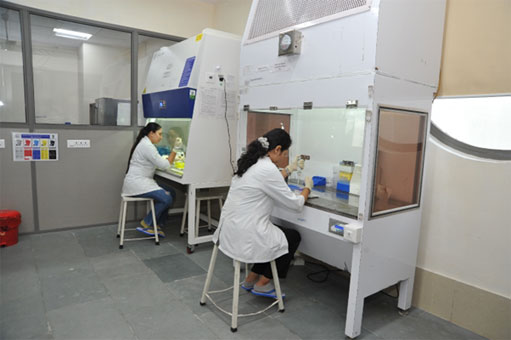 Research Activities :
Currently the lab is engaged in studying the
Role of circulating miR21, miR22 miR-141 of miR-200 family in diagnosis, monitoring and prognosis in colorectal cancer and ovarian cancer patients

Activating mutations in BRAF, K-RAS, ERCC1 in patients with colorectal and ovarian cancer

Eexpression of B-catenin, IGF-1R, p53, PIK3CA signaling pathway molecules at molecular and protein level which would probably represent the paradigm of personalized medicine approaches in patients with colorectal and ovarian cancer

The prevalence of Her2/neu expression in colorectal cancer patients and thereby predict whether anti-Her2 therapy is effective in these patients

The role of the mRNA expression profiling of tumor DNA mismatch repair genes and inflammatory cytokines in colorectal cancer patients.