Molecular Diagnostics & Research

Lab - I


Lab - II


Lab - III


Cytogenetics Lab
Immunohaematology Lab
Facility available :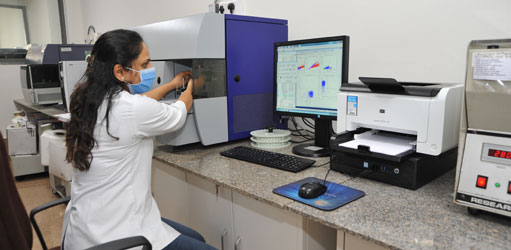 The lab is well equipped with advanced diagnostic instruments such 1 ULTRA and 3 Ventana Benchmark XT automated Immunostainers, and FACS Canto 10 colour flow cytometer.

Clinical Services :
The lab works in co-ordination with Onco-pathology department by performing immunohistochemistry with one ULTRA and three Ventana Benchmark XT automated Immunostainers and leukemia/lymphoma immunophenotyping with FACS Canto 10 colour flow cytometer to aid histopathological diagnosis and haematological diagnosis, respectively.
Academic Activities :
The lab staff is involved in teaching of MSc Cancer Biology, PhD students and participates in Cancer Biology Finishing School. The division enrols MSc dissertation students from other colleges, as well as MSc, MPharm, MDS and MD students as observers.
Research Activities :
The lab is involved in translational cancer research and seeks to accelerate the application of discoveries in the laboratory to clinical practice. It is based on identification of cellular and molecular changes that occur during pathogenesis of the cancer and during cancer progression which cause therapeutic resistance.
The main areas of research include development of cost effective protein panel by CGH array and transcriptome sequencing of triple negative breast cancer (TNBC). The role of Notch receptors and identification of immune cells profile exists in tumour microenvironment both within the tumour and stromal regions and their clinical significance in TNBC. In addition, minimal residual disease (MRD) detection by flow cytometry in acute leukemias.