Immunohematology Lab
Molecular Diagnostics & Research


Lab - I


Lab - III


Cytogenetics Lab
Lab - II
Facility Available :
The department is equipped with High Performance Liquid Chromatography, Thermal Cycler, Real Time PCR, Proteomic Work Station, Gel Electrophoresis system, Gel documentation System.
Clinical Services :
Quantitative/Qualitative analysis of Major and Minor BCR-ABL fusion genes, PML-RARA fusion gene, JAK-2 V617F mutation, C-Kit D816 mutation and HPV 16 and 18 genotyping are performed by Real-Time Polymerase Chain Reaction. FLT-3 ITD and D835 mutations are carried out by Polymerase Chain Reaction and restriction fragment length polymorphism method. HLA Typing tests for determination of Class I and II HLA typing antigen A-B-DR is being performed by PCR SSP analysis.
Academic Activities :
The laboratory is actively involved in M.Sc. Cancer Biology course. Apart from this, theoretical and practical demonstration of various molecular biology techniques are carried out for the MSc, MPharm, MDS and MD students who come as observers from various institutes/universities. Staff is involved in teaching Molecular Diagnostic tests and hands on training is also given to Finishing School students as well as DM Onco-pathologists for their Course-work.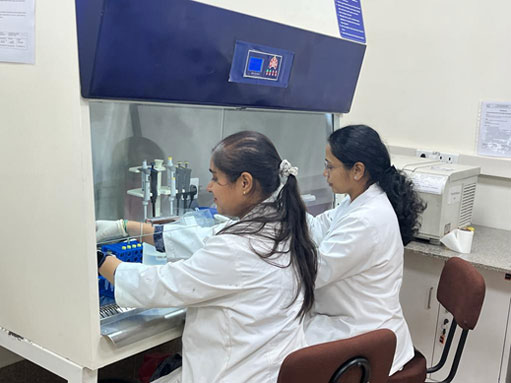 Research Activities:
The laboratory is actively involved in studying tobacco carcinogenesis and other molecular mechanisms of tobacco related cancers, mainly oral cancer. Research in other solid malignancies such as oropharyngeal cancer, involves detection of HPV infection prevalence and its association with p16 expression in west Indian population. Research focus also involves study of KRAS, BRAF, PTEN, PIK3CA, ERCC1, IGF-1R and p53 expression and elucidate the potential value of these markers at diagnosis and prognosis in epithelial ovarian cancer patients. Research in colorectal cancer involves study of mRNA expression profiling of tumor DNA mismatch repair genes (hMLH1, hMSH2, hMSH6, and PMS2) and inflammatory cytokines (TNFα, IL-6 and IL-1β) as well as MLH1 gene promoter methylation status. In haematological malignancies, study of clinical significance of JAK2 V617F mutation and its validation by droplet digital PCR method for myeloproliferative disease is ongoing. Another research includes estimation of normalized copy numbers (NCN) of the major BCR-ABL transcripts and comparison with the respective normalized copy number on the international scale (IS-NCN) values and their impact on prognosis of CML patients. Moreover, comparative analysis of PCR/RFLP and Real time PCR techniques to detect FLT3 ITD and TKD (D835) mutations in AML patients has been undertaken. Further, research on Next generation sequencing (NGS) based human leukocyte antigen (HLA) typing testing would provide a broad-coverage and ultra-high–resolution to detect match between patients and donors for bone marrow transplantation.