Molecular Oncology Lab


Cytogenetics Lab


Immuno- Haematology Lab


Stem Cell Biology Lab


Tumor Biology Lab


Clinical Carcinogenesis Lab
Stem Cell Biology Lab
Services :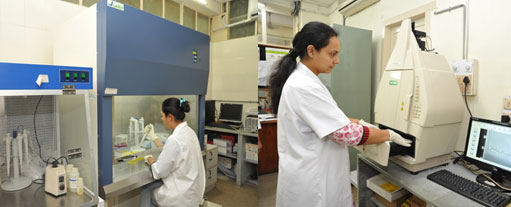 The department is well equipped with molecular biology facilities and connected to research,education and also provides diagnostics and clinical services. Division is involved in the advanced molecular diagnostic services for Chronic Myeloid Leukemia patients such as detection of BCR-ABL fusion gene, PML-RAR fusion gene using Real Time PCR technology since it is essential for the treatment selection and monitoring of patients.

Clinical Activities :
Diagnostic tests for major and minor BCR-ABL fusion and PML-RARa are carried out with advanced molecular techniques to aid in diagnosis and thereafter monitoring of leukemia patients. The lab is involved in the sample collection and the pre RNA extraction process of the clinical trial of Novartis.